Frances Ha by Noah Baumbach
Greta Gerwig made her debut as an actress in Joe Swanberg's
LOL
(Swanberg was at this past April's festival favorite
V/H/S
). She then wrote the screenplay for and starred in Swanberg's next film,
Hannah Takes the Stairs
(NaFF 2007). She also wrote the screenplay for and stars in Noah Baumbach's latest
, Frances Ha. 
In it, Gerwig plays 27-year-old Frances, a young woman who is not exactly childish, but has certainly not yet graduated to adulthood. There really isn't a plot to speak of - merely episodes in the life of someone attempting to find her place in the world. But those episodes are hilarious and manage to escape becoming quirky-girl cliches. If Woody Allen owns Manhattan, Gerwig stakes a claim on Brooklyn in this delightful coming-of-age story. It's one of the few films I've seen that is about how one finds their family of choice. Where many films about this time in life focus solely on romantic adventure,
Frances Ha
is about navigating friendship, career, and the little successes and failures that are inherent in that process. Romance is a part of it, but is not the whole of it. As a result, Frances feels like a wonderfully complete character - one I would like to spend more time with - flaws and all.
[youtube=http://www.youtube.com/watch?v=AxRVhgbVN9o]
How to Make Money Selling Drugs by Matthew Cooke
Capitalism at its purest, How to Make Money Selling Drugs is - on its basest level - a primer on how to enter the black market of illicit drugs. But that's not really the point. If you like having a gun pointed in your face on many occasions or being stabbed several times or spending years in jail - go right ahead. What this riveting documentary is really about is the absurdity of the War on Drugs. It makes its points quite nicely and the doc is highly (no pun intended) cinematic. It's at its strongest when it is arguing that the best way to make money in the Drug War is to be a government official or start a privately-owned prison. It's also fair-handed as it does not take addiction lightly. The ending becomes a little too "dramatic" based on the tone it establishes early on, but it is never less than interesting. Oh, it's also co-executive produced by 2010 NaFF director, Adrian Grenier.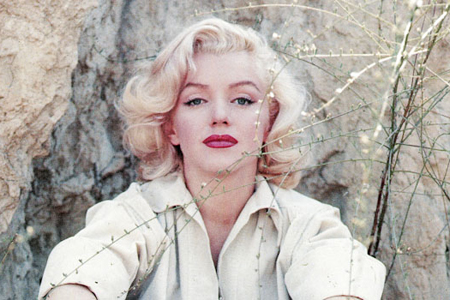 Love, Marilyn by Liz Garbus
Going in, I thought this film felt a little...late. After My Week with Marilyn, I thought we'd need a break from Marilyn nostalgia. But it's a deeper film than that. With the recent discovery of private letters, diaries, and other writings by Monroe - read by actresses like Glenn Close, Marisa Tomei, and Viola Davis - we learn a lot about the private life of the woman. Some of the technicals of the film are awkward - the actors doing the readings are placed in front of digital backgrounds that just look weird (why not a nice plain white background?), but the story and the film and photography of Marilyn are fascinating enough to make this a decent way to spend 90 minutes. As they say in the film, her life is more fascinating because it was cut so short - but few knew that there was a strong intellectual desire behind the persona of Monroe and part of her frustration with Hollywood was the constant typecasting as a person she strove mightily not to be.
After I got out of How to Make Money Selling Drugs, I was disappointed to find out that the 4:45 screening of the Mexican horror film Come Out and Play had been cancelled. It's premise is that a rich Mexican couple takes a holiday on an island paradise, only to find that it's inhabited only by children. Certainly, it's Pueblo of the Damned or Niños of the Corn - but I'm a sucker for creepy killer kids. Hopefully, it will be rescheduled for later in the week.
That's day three folks. Day four begins bright and early with Foxfire by Laurent Cantet (winner of the Palme d'Or for 2008's remarkable The Class), adapted from the novel by Joyce Carol Oates.